My last day in Cannes was great – I drove down from Mandelieu/ La Napoule to catch a noon screening at the Palais . Carax's Holy Rollers was full so I dashed across to the Olympia and made it to Rust and Bone.
http://www.youtube.com/watch?v=KppsFJYCVIA
( watch the trailer but avoid idiotic comments below it)
I'm so glad I saw this film. Marion Cotillard's performance is excellent and the film contains one of the most visually stunning and emotive scenes I have ever witnessed on celluloid.  The story focuses on two people , as brilliantly played by Marion Cotillard and Matthias Schoenaerts.  On the surface they seem very different but then life throws them a tragic curve ball and their relationship develops.  The film as a whole is about how people deal with life's struggles – from the mundane to the intense. How we choose to deal with the hand that we are dealt, the impact that our decisions have on our lives and the lives of other's is at the heart of this film. Hours after seeing the film, I started to cry into my Kir Royale in the bar at the Majestic's Hotel recounting the scene I just referred to earlier. I'm not going to spoil it for you – you will have to see the film for yourself!   In my view this is what really movie making is supposed to be – whether its tapping your feet to a song in The Sapphires or crying into your pashmina in Rust and Bone , the ability to emote an audience is a testament  to the power of filmmaking. p.s the soundtrack was excellent too!
Fortunately my next movie , 7 Days in Havana was more upbeat  although not without some tears – but hey what would life be without joy and pain,  sunshine and rain? ( to quote Frankie Beverley and Maze J ) . Given that seven different directors worked on the film it worked out well overall with only some of the tales interweaving. I wanted to watch it as I've been thinking of going to Cuba and now I DEFINITELY  want to go!
I came out of the cinema to find the blue skies and hot sun overruled by stormy clouds and yet more rain – mais ca suffit!!! After a quick bite beside the boules park – kind of relaxing watching a group of men throw their balls around in the rain – I headed back to the Olympia and stood for half an hour in the wet to see Amour. This is one of the most buzzed about films of the festival and while I was apprehensive about seeing a film that deals with aging parents and senile dementia having had first hand experience of that myself, I didn't find it as emotionally hard going as Rust in Bone. Maybe my own experience had immured me to the tragic course of events as they unfold in the film. Its very well acted so I can see why it has been a popular choice but I don't think its amazing and would suggest Rust and Bone or The Angels' Share before Amour.
So that I thought that would be that in terms of film watching for Cannes 2012 but much to my delight my friend Maxine gave me a ticket to the 10.30pm screening of Hemingway and Gellhorn  at the Palais which meant I would be going up the famous red steps! I have done the steps before but its always fun given all the paparazzi and the stars on this film include Nicole Kidman and Clive Owen . I tried to take a short cut from the Majestic to the Palais as I didn't want to be late and darted through the barriers on the Croissette. Alas I got spotted by about a dozen policeman who had nothing better to do than yell at me and take me by the arm and tell me  in no uncertain terms to go back from whence I came and walk the long way around.
Mon dieu!  Having dealt with glorious French bureaucracy I walked up the red steps then waited for Nicole and co to arrive – she looked dazzling as always and took ages to make it past all the photographers.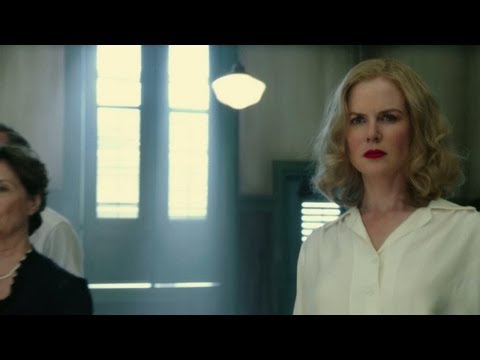 And what about the film? As the title would suggest its about Ernest Hemingway and his tumultuous relationship / marriage with the writer / war correspondent Martha Gellhorn . I must say that when I first heard Clive Owen was cast as 'Hem' I was shocked as I felt it should have gone to an American actor. But I realize that is a narrow minded view and Clive did a good job as did Nicole as Ms Gellhorn . The film opens with her as an older woman and the make up is amazing! She looks more 'normal / natural' than when I last her in Australia and all I could look at was her lips! The film itself is not great. Philip Kaufman uses old and reconstructed footage to give the film authenticity much as he did with The Unbearable Lightness of Being and like that film which had some fine rumpy pumpy performed by Daniel Day Lewis , this one has Nic and Clive going at it hammer and tongs regardless of the roof literally falling in over their heads. Kaufman's technique of manipulating the colours from black and white , to isolating one colour such as the blood of a recently harpooned fish was distracting rather than effective. I couldn't help thinking that I would have preferred to have seen a documentary about Ms Gellhorn rather than an over wrought and over thought film.
Today I didn't see one film but enjoyed a lovely hike in the hills above the sea followed by a dip on the beach by the Chateau de La Napoule and am now really look forward to the Eurovision Song Contest! Home tomorrow which was a bit badly planned as I am a hop skip and a jump from Monaco where the Grand Prix will take place mais c'est la vie!